I was asked to write an article for the March/April edition of parish magazine 'The Pilgrim' to explain how the vaccination clinic came about and how its going, so I thought I'd put this for anyone who might be interested. FYI, this is the 500th post to this website!
---
Vaccinations are, quite literally, a 'shot in the arm' for our communities and we're delighted that Emmanuel has been able to be used as a vaccination centre to serve the community of Billericay.
I was first approached in November by the Billericay Primary Care Network (Billericay GP's) enquiring about the possibility of Emmanuel being used in this way – there's no doubt Emmanuel is an ideal venue with a fabulous hall complex and good parking.
Several discussions took place between the PCN, Basildon and Brentwood Clinical Commissioning Group (CCG) and ACECIC (a not-for-profit Anglian Community Enterprise (ACE) providing services in North Essex) about facilities and how they would manage such a large and complex programme.
In the end, the PCN subcontracted the clinic to ACE. It seemed wholly fitting that a not-for-profit organisation should be involved in administering the vaccinations when we hear stories of government 'cronies' making many hundreds of thousands of pounds on the back of this pandemic.
Emmanuel Church Council agreed the premises should be offered for 6.5 days a week (not to include Sunday mornings – we are a church after all!) from 8.00 am to 8.00 pm each day. A contract was signed the day keys were handed over on Friday 18 December 2020.  Clinics have run two days at a time (mainly due to a of the lack of vaccines being available) and the first clinic took place on 22 December 2020.
ACE/CCG were struggling to find volunteers and asked if I would be able to help!  I said I had a few contacts in the churches and community with service organisations and the response to this request was overwhelming – too many for them to manage. It wasn't a hard task to find volunteers, as many people were desperate to get out of their house to do something – and nothing is better than serving the community.  In the end Paula, my wife, offered to manage the volunteers.
After a few glitches before Christmas, when many clients were turning up an hour before their appointment and jamming the car park, it seems to have settled into a well-established, and smooth running, pattern.
In addition to health professionals, Doctors, Pharmacists, and Nurses, several administration staff are needed each day as well as a host of volunteers.  The Rotary, Roundtable and Lions, alongside many other groups, have managed the car park quite superbly, even asking people to come back if they arrive are too early so the car park doesn't get clogged up.  With around 50 people in the hall at any one time, this doesn't take much.  In recent days, they have also done a wonderful job in clearing the car park of snow and gritting the pavement areas too.
There has been something incredibly special in the way the community has come together to support the vaccination clinic and both staff and volunteers say it is a once in a lifetime opportunity to be part of something that really will make a difference in people's lives.
The quality of volunteers inside has been impressive too.  About six have been on duty at any one time welcoming clients, supervising their recovery, making people feel at ease and ensuring staff and volunteers have their essential cups of tea/coffee during the day!  Some family, and church members, have been able to be involved and I've spent a couple of hours each day thanking volunteers for offering their time and getting to know the clinical staff.
As I write, around 6,000 people have been vaccinated at Emmanuel and many appreciated familiar and welcoming faces they when arrived at the clinic. The feedback on social media has been quite superb.
There have been many touching stories of those who have been vaccinated – especially those in the older/vulnerable groups who have been in self-isolation since March 2020. From the many who have burst into tears of joy and relief when they've been vaccinated to the lady who put on her best dress and jewellery, saying it was her first time out of the house in nine months and wanted to make the best of the occasion.
A few people have declined the vaccination (2 million nationally according to the Prime Minister just recently).  We've had anti-vac protestors, and someone even called the police complaining of an illegal gathering in the hall! In the early days I received many emails and phone calls from people wanting to book their appointments when, of course, these are managed by GP surgery's or by phoning 119.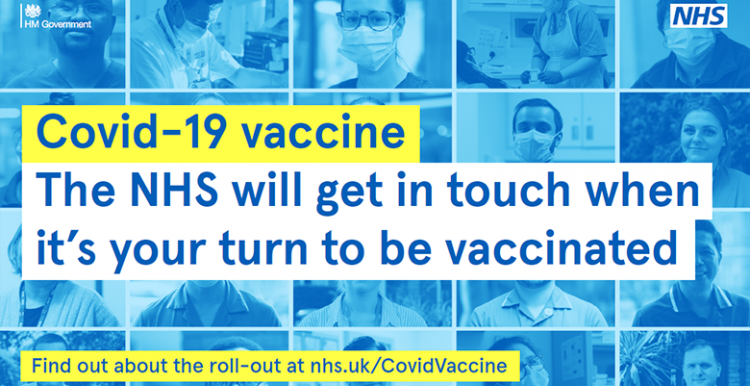 Our prayer has been that everyone who passes through the clinic, as well as those who are on duty, would feel a sense of God's presence and experience a touch of the Holy Spirit who leads us to the one who brings true healing and wholeness. The clinical director mentioned to me the other week how amazing it has been that there have been no severe reactions to the 6,000 plus vaccinations given. I said it was because the clinic was clothed in prayer and though, not a Christian, he said he couldn't argue.
As I write, it's common knowledge that the Billericay PCN has decided not to extend the contract to ACE beyond 28 February 2021.  This is a great disappointment to all the staff who have been involved. It has been an excellent team, and everyone involved, including volunteers, should be enormously proud of the work they have done. However, the Billericay PCN have awarded the ongoing contract to Billericay & Basildon Healthcare Solutions, which is a federation of local Billericay and Basildon practices, from 1 March 2021. This is good news for the people of Billericay as it's important we have a local vaccination centre.

You might be interested to know that Emmanuel was the first CofE church to be used as a vaccination centre in Essex. That's no surprise given some of the hurdles that were, initially, being put in place! I've often joked how managing two lumbering giants like the CofE and NHS isn't easy. However, I was determined that the vaccination clinic should be in Emmanuel and my perseverance paid off in the end.
The NHS are now actively looking for churches across the Diocese (and across the nation) to provide premises for vaccination centres, especially in areas where there is a large BAME population. The Diocese have asked if I would act as a consultant to other churches who may be interested in offering their premises as clinics.
So, there you have it.  A summary of an exciting time in the life of Emmanuel during this pandemic.  How wonderful that our premises have been able to be used to serve the wider community in this way. Let's hope it's not too long before our churches are open, and life returns to normal and that many in Billericay, and across the nation, benefit from the vaccinations dispensed. Be sure to take the vaccination when your time comes.
Be safe and be blessed.
Paul