Many of us are deeply concerned and challenged by the additional guidelines announced by the Prime Minister this week.  Just at a time when we were getting back to some kind of normality, our movements and social life is being restricted once again – though church is not limited by the 'rule of six' frequency of attendance!
It is clear that we now have to prepare for a second wave of COVID 19. This is a heavy burden to carry. All of us have been affected in the way it has claimed lives, ruined weddings, baptisms, and funerals, robbed children of time in school and forced so many into isolation, pain, and depression.
Foodbank demand has increased, as have unemployment, domestic violence, mental-health problems, and poverty. And it's impossible to know what kind of 'normality' will emerge from this period in our history.
As Christians we, too, struggle with the way the world is at the moment but let us remember that amid the loss, trauma, and struggle, the "darkness does not overcome the light".
And whilst our prayers and intercessions reflect the concerns of our community, nation and world – and rightly so – I often wonder whether we share the hope we have in Jesus enough. If ever the world needed a glimmer of light and hope it is now – we don't often see that through the 'doom and gloom' offerings of our politicians and scientists.
How can we do that? The Bible is full of words of hope – let us remember the hope that is ours in Jesus in, and through, difficult times. Now is a time for all of us to draw close to Him and continue to offer to the world the hope and stability the gospel gives us through this crisis, bringing hope to the very pressing times in which we find ourselves.
Jesus wants us to be who he says we are, the salt and light of the earth and even in these times when we are more isolated from others and perhaps unable to be out as much as we would like there are still ways we can comply. He says to us, do what is right and fair, do what is just to those around you, be compassionate, kind and loyal, be generous with your time your love and also your money, love God and love your neighbour but also love your enemy, choose to overcome bruised feelings and be a peacemaker.

Choose to be self giving and vulnerable rather than defensive and be a part of your community where possible. It means that you might get hurt, in fact you probably will, it means you may be tired, there is a very good chance of that, you may have to put yourself out and put others first, that's a given but we are to make a difference in this world and we are to reflect the love of Jesus to all around us.

Pauline Woolnough
Sermon at Emmanuel, Billericay
27 September 2020
Why not download this handout Daily verses on hope to help focus your thoughts on words of hope from the Bible on a daily basis and remain confident that our lives and future are under His authority and control.
As a response to the above, I'm committing myself to posting a verse of hope every day on my social media accounts. Here's the first one: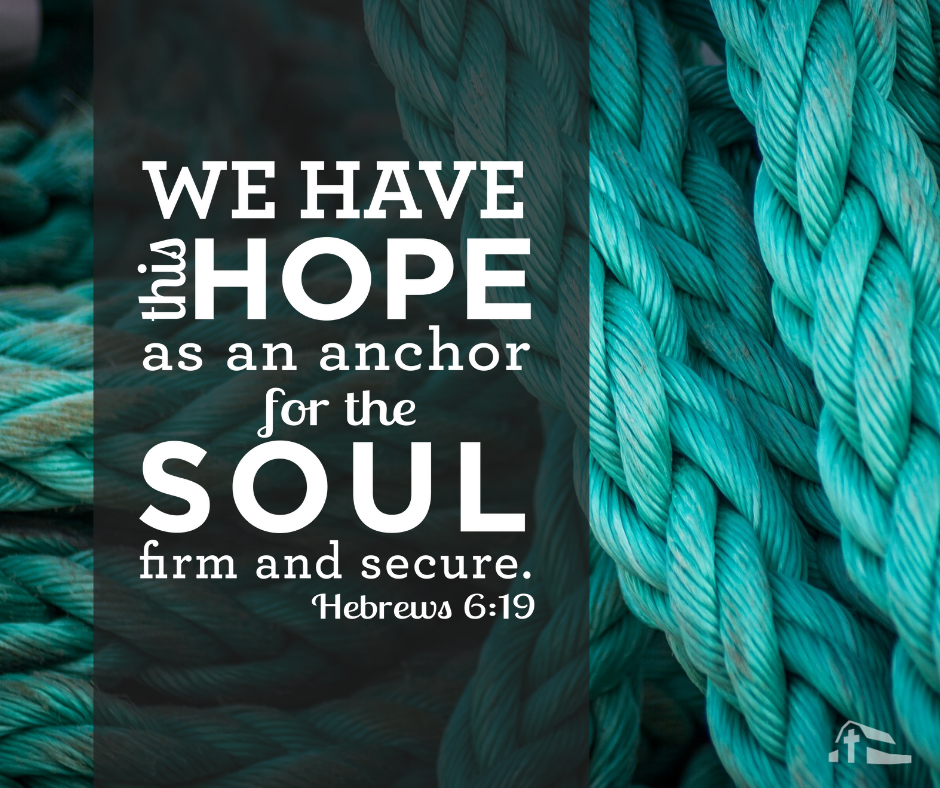 I quoted George Pitcher in my sermon How Great Is Our God on Psalm 145 in July about the role of the church in difficult times, and it is well worth quoting again:
The Church at these times becomes both a touchstone of hope and a pillar of strength for those otherwise rendered helpless by despair.  It's both what it's for and what it's best at, offering the defiance of an unquenchable and universal love and peace in the face of human darkness and evil.
Can I encourage each of us to remember the hope we have in Jesus in our prayers – both public and private?  Might I even suggest  those of you who lead intercessions on Sunday's, include words of hope as a regular part of your prayers in the same way we remember our politicians and those who are sick etc.? I'm sure it will be a great encouragement to everyone one of us – whether present in church or watching online.
With my prayers of hope for you all in these challenging times.
There is a hope that burns within my heart,
That gives me strength for every passing day;
a glimpse of glory now revealed in meagre part,
Yet drives all doubt away:
I stand in Christ, with sins forgiven;
and Christ in me, the hope of heaven!
My highest calling and my deepest joy,
to make His will my home.

There is a hope that lifts my weary head,
A consolation strong against despair,
That when the world has plunged me in its deepest pit,
I find the Saviour there!
Through present sufferings, future's fear,
He whispers, "Courage!" in my ear.
For I am safe in everlasting arms,
And they will lead me home.

There is a hope that stands the test of time,
That lifts my eyes beyond the beckoning grave,
To see the matchless beauty of a day divine
When I behold His face!
When sufferings cease and sorrows die,
and every longing satisfied,
then joy unspeakable will flood my soul,
For I am truly home.

Stuart Townend & Mark Edwards