Today is known as Ash Wednesday, but this isn't its proper name. Its official name is the Day of Ashes. We call it Ash Wednesday simply because forty days before Good Friday, always falls on a Wednesday. It marks the commemoration of Jesus' forty-day retreat in the wilderness when he shaped his mission and ministry through prayer and fasting. The word Lent in Latin means 'spring.' The season of new life and of growing out of the darkness and dormancy of winter into the light of spring.
I began to write this talk in the third week in Epiphany when, even then, I'd been thinking about Lent for a couple of weeks. I was thinking about Shrove Tuesday; the pancake supper, the ashes we usually prepare to mark our heads on Ash Wednesday, and I realise none of this will take place this year because of Lockdown #3.
And as the death rate from COVID 19 hits 110,000, I am thinking especially about the fragility of life and our mortality. I am also thinking about how the Ash Wednesday liturgy invites us: "… to the observance of a holy Lent, by self-examination and repentance; by prayer, fasting, and self-denial; and by reading and meditating on God's holy word."
It's difficult to be motivated for Lent when we are all feeling tired and weary. When every day is a 'ground hog' day, God can feel so far away – especially when our churches have been more closed than open this past year. The opening words to Keith Green's song 'My eyes are dry' sums up something of how I'm feeling. My eyes are dry, my faith is old, my heart is hard, my prayers are cold. And I know how I ought to be alive to You and dead to me. At times like these it's easy to feel more dead than alive in our faith.
The old voices in my head are asking, "What are you giving up for Lent this year, Paul?" But the truth is:
I don't want to do Lent this year!
Maybe that's something a priest isn't supposed to say – but I just have, and I mean what I say. Can Lent do something to me that lockdowns and Tier 4 haven't done to me already?
---
This cartoon by Dave Walker in the Church Times seems to sum it all up doesn't it?
---
Lent provides an opportunity to nurture the spiritual side of our being and, as a way to do this, we often practice some form of abstinence in the hope that it will enhance our relationship with God. But it feels as though these past 11 months have been one long season of Lent.  There's not much more we can give up because most of what we enjoy has been stripped away from us. It confirms to me that:
I don't want to do Lent this year!
Our reading from Joel called for the community of God to recall their true vocation. Their vocation to reveal the compassionate, justice seeking God to the world around. The failure of the people of Judah and Jerusalem to actively seek the transformation of the world had caused other nations to ask: 'Where is their God?' And how many have asked that question during the pandemic – but for different reasons than those Joel is referring to.
Have you ever considered that Lent is a time of transformation rather than abstinence? I say that because it seems to me that Jesus' Lenten focus was the transformation of the world.
Rabbi Michael Lerner: 'I simply cannot understand how somebody can be a spiritual being and not be actively involved in the transformation of the world.'  What a challenge to us. As well as a time for spiritual renewal, Lent is also a time of mourning our sins. It is a time when we are called to repent and change our ways.
Lent shouldn't be just another programme for self-improvement, or another journey of self-punishment in the hope of a divine reward. These things caution me not to devote forty days of my life to giving things up only to take back on Easter morning what I gave up. It confirms to me, even more so, that
I don't want to do Lent this year!
Instead, I want to discover afresh our Gospel reading for Ash Wednesday from Matthew 6:1-6 and 16-21 and what Jesus calls the heart. I want to learn what it is I give myself to. What do I really love? What are my treasures? Where is my heart?
Learning to love and learning what to love, learning what to hold on to and what to let go of. That's the real work of Lent.
In Matthew's Gospel, Jesus reminds us that our heart and treasure can't be separated. "For where your treasure is, there you heart will be also" (Matthew 6:21). When I name my treasures, then I will find my heart.
That's when I must face up to myself and, for better or worse, acknowledge the treasures I have given myself to and the direction in which they have taken my life. Some treasures are of lasting and eternal value, others are not. Some are worth holding on to. Others I need to let go of regardless of how much I think I love or need them.
Jesus, empowered by the intimacy of dialogue with his Father, offered a radical alternative of living: a life marked by compassion, spiritual integrity, and social justice. 
Our reading from Joel talks about returning to the Lord, not only through fasting and mourning and rending of our garments but by the rending of our hearts, vs12-13. It also gives us, vs13, one of the recurring phrases we often read in the Psalms about how God is: … gracious and compassionate, slow to anger and abounding in love.
Our reading from Matthew reminds us how when we fast/pray we should do it secret not in the public arena as the hypocrites do.  I think this ties in with what we read in Joel 2, in the sense that what takes place in our heart is much more important than what we show outwardly. Yes, there is a time for outward penance and confession but what is of lasting value is what takes place in our hearts.
Joel points to the fact that works of penance, if not related to that inner conversion to God in love, are worthless. External works of penance have no value in themselves, according to Matthew, unless if affects our heart. However, if we do confess, God is merciful and willing to forgive. He is gracious and compassionate, slow to anger and abounding in love.
And so, may each of us, this Ash Wednesday, and this season of Lent, repent of our self-reliance and self-seeking and accept the grace and forgiveness that marks us out as a child of God, and which enables us to be a transforming presence in our world as we seek to change the world, in which we live, for Jesus.
I don't want to do Lent this year! I want Lent to do something to me. 
Ash Wednesday 2021 – Service Sheet
---
However you are marking this Lenten season, I hope you are encouraged by God, that you are strengthened by the hope we have in the gospel and you are inspired to share that hope with those around you.
There are many opportunities to engage with the season of Lent through online resources and those offered by the diocese and the wider church.  These are just some of the ones available: 
DIOCESAN LENT MODULES 2021  These are the Chelmsford diocesan modules for 2021. Courses are open to anyone and will be carried out using Zoom. This page also includes an update on weekly Lent Bible studies led by our Diocesan Bishops and Archdeacons. 
LIVING UNDER THE RAINBOW This is a six-week Wednesday evening (7.30-8.30 pm) course led by Hugh Dibbens together with Paul Beasley-Murray. What will life post-Covid look like?  Recognising that 'the future is not what it used to be'. Bible-based and thought-provoking,  they ask, 'What sort of church is God calling us to be?' and 'What sort of society does God want us to live in?' For more information and course material, email Paul Beasley-Murray. 
FAMILY LENT COURSE This is an excellent resource provided by the diocese and is ideal for young families. Family Lent Course 2021 – Diocese
LENT ENCOUNTER Is a free 40-day journey, from The Bible Society, to help you connect more with the Bible and the life of Jesus – AND you don't have to give up chocolate! 
#LIVE LENT The Church of England's Lent resources theme for 2021 is #LiveLent: God's Story, Our Story.
THE HOMILIES OF THE CHURCH OF ENGLAND Throughout Lent, Lee Gatiss, Director of Church Society, will be preaching through the Anglican Book of Homilies, in a new modern English version. 
SELF EXAMINATION AND CONFESSION This is part of the Liturgy we use at our Ash Wednesday service of Holy Communion. 
TWIN MY VACCINE One of the aspects of the season of Lent is that of "alms giving" – traditionally giving money to the poor, or, alternatively, to what we might call good causes. One couple in Somerset have come up with an ingenious idea of being able to donate to a cause close to all hearts this year. Rowan Patterson and her husband Scott, a vicar in Curry Rivel in Somerset, have launched a campaign called "Twin My Vaccine" to help raise funds for communities across the world which are struggling to vaccinate their population against Covid 19 and whose infrastructure may not even include basic refrigeration. We will only have a safe world in which to live if the vaccination programme includes developing nations. I think this is a great initiative and one that deserves our support. You can Gift Aid too.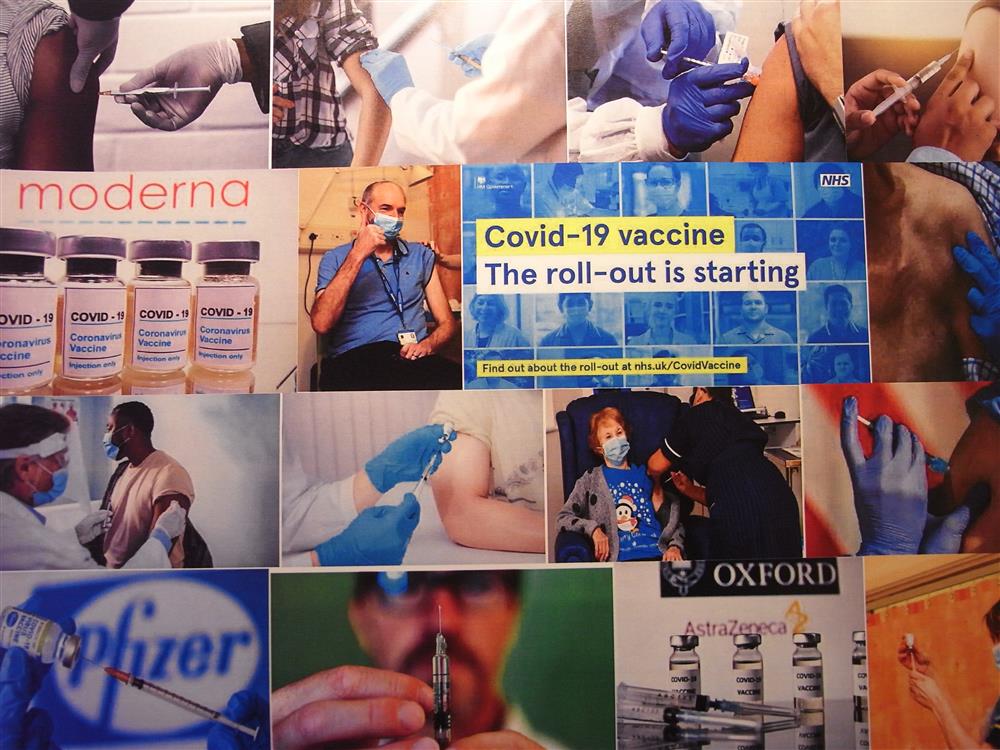 ---
This is a copy of my 'sermon' preached at the Pre-recorded Service for Ash Wednesday, 17 February 2021, at Emmanuel, Billericay. The Bible Readings are Joel 2:12-18 and Matthew 6:1-6 & 16-21.