I'm sure many of you have been watching the TV and social media in disbelief at all that is taking place in Ukraine. We are hearing so many heart-breaking stories which remind us once again of the destructive nature of war: on communities, families, and nations. These are concerning times for all of us. Pasted below are prayers you can, use and opportunities to pray for Ukraine here in Billericay.

How to pray for Ukraine
A guide for individuals, groups and churches to pray for peace in Ukraine and around the world. Written by Gideon Heugh and Rachael Adams
Pray for people affected by the violence
That people still in Ukraine will be protected from the violence; that there will be provision of essential supplies, such as food and clean water. Pray for vulnerable people who cannot flee, for example those with disabilities or the elderly.
That refugees will find safe places to stay. Pray that host communities will welcome refugees with compassion, and that there will be support for all in need.
For healing for people who are wounded or have experienced trauma; and comfort for those who are grieving.
Pray for those in positions of leadership
That leaders on both sides will be filled with compassion, wisdom, calm and a desire for peace.
That world leaders will balance responding to the injustice of the invasion with seeking ways to build bridges, de-escalate tensions, and restore global security.
Pray for the church
That the church in the Ukraine, Russia and across the wider region will be a voice for peace; and that they will have the resources they need to help people who are vulnerable.
That the church and other organisations around the world will have the courage and conviction to speak out against aggression and injustice.
That God's power will be revealed through the church in this situation – bringing a message of love and hope in the midst of the darkness.
Pray for the global impact
The crisis in Ukraine is already leading to a significant rise in the price of food and fuel. It is likely that this will get worse. Economically poorer countries are disproportionately affected by shocks such as this. Pray that food and fuel prices will stabilise, and that provision will be made for countries in a vulnerable position.
Pray for peace
That there will be an immediate end to the violence – that peace will come sooner than anyone could have expected or hoped for.
That diplomatic solutions will be found that will lead to lasting peace in the region.
That people who have fled will be able to return home, and that what has been destroyed will be rebuilt.
For strength for individuals and organisations in Ukraine, Russia and the region who are working for peace at local, national and regional levels.
Ways to pray …
Listed below are five different ways of praying that you can use as you pray for Ukraine. These are fasting; using a written prayer; praying with a map; baking Ukrainian bread; and lighting a candle. These can be done on your own or as part of a group.
Pray by fasting
Fasting is a form of prayer that's been around for thousands of years. It involves purposefully giving up something that you'll miss in order to shape your focus.
First, choose what to fast from. Food is the most common choice, but you could also fast from TV or social media. Make sure you consider your health and consult a doctor if needed.
Then, decide how long you want to fast for. Challenge yourself but don't be unrealistic. You could start with missing just one or two meals on a particular day, then repeat that on the same day each week.
Use the time that you would have spent preparing and eating food, or scrolling through social media, to focus on God. When you notice that you're longing for whatever it is you're fasting from, use it as a reminder to focus on one of the areas of prayer listed above.
If you're doing this as a church or a small group, think of ways you can encourage each other throughout the day. This could be by sending each other Bible verses or sharing what God has been speaking to you.
Pray using scripture
The Bible can help guide us in prayer – especially in tough situations when it can be difficult to find the right words.
Choose one of the following passages of scripture to read through, or pick your own: Matthew 6:6-13; Isaiah 61:1-4; or Luke 6:20-26.
Slowly read the passage through and familiarise yourself with it.
Read it for a second time. You may want to speak it out loud. Think about the specific needs of the people in Ukraine, those who have fled and the role of the church in this region.
Before reading it for a third time, pause and ask the Holy Spirit to highlight a word or line to you. Ask God why this was highlighted for you. Continue to listen to God and to the Holy Spirit. This may be through pictures, words or more scripture. If praying as a group, share with each other how God is speaking.
End by thanking God for working in and through you.
Pray with a map
Use an internet search engine, globe or an atlas to find a map of Ukraine. Google Maps can be a useful tool for this.
As you look at the map, invite the Holy Spirit to reveal a particular location to you. This could be a particular town, area, or border.
Once you have chosen somewhere, lay your hand above it on the map. Pray for that location and the people there. Ask God to reveal specific things you can pray for, or use the first part of this guide to help.
If doing this activity as a group, you could take it in turns to choose a location to pray over. If you're using a physical map, you could keep it up as a reminder to pray and add Post-it notes throughout the week.
Pray by baking bread
Bread is often regarded as sacred in Ukrainian culture. Ukraine is an incredibly fertile nation – producing nearly 10 per cent of the world's wheat. Bread and salt placed on an embroidered towel is a symbol of welcome there.
Bread is an important part of Christian celebrations in the country. At Easter, for example, families bake a Paska loaf, then take it to church to be blessed before going home to eat it.
As a prayerful act of solidarity with Ukraine, you could bake a loaf of bread. You could use a traditional Ukrainian recipe, or your own. This is a great activity to do with your family or a church group.
Once you have baked the bread, place it on a tea towel. Lay your hands over it and say a prayer for Ukrainian families. Break the bread with your hands (in many Eastern European and Central Asian cultures bread is too sacred to be cut with a knife), then say another prayer for peace in the region.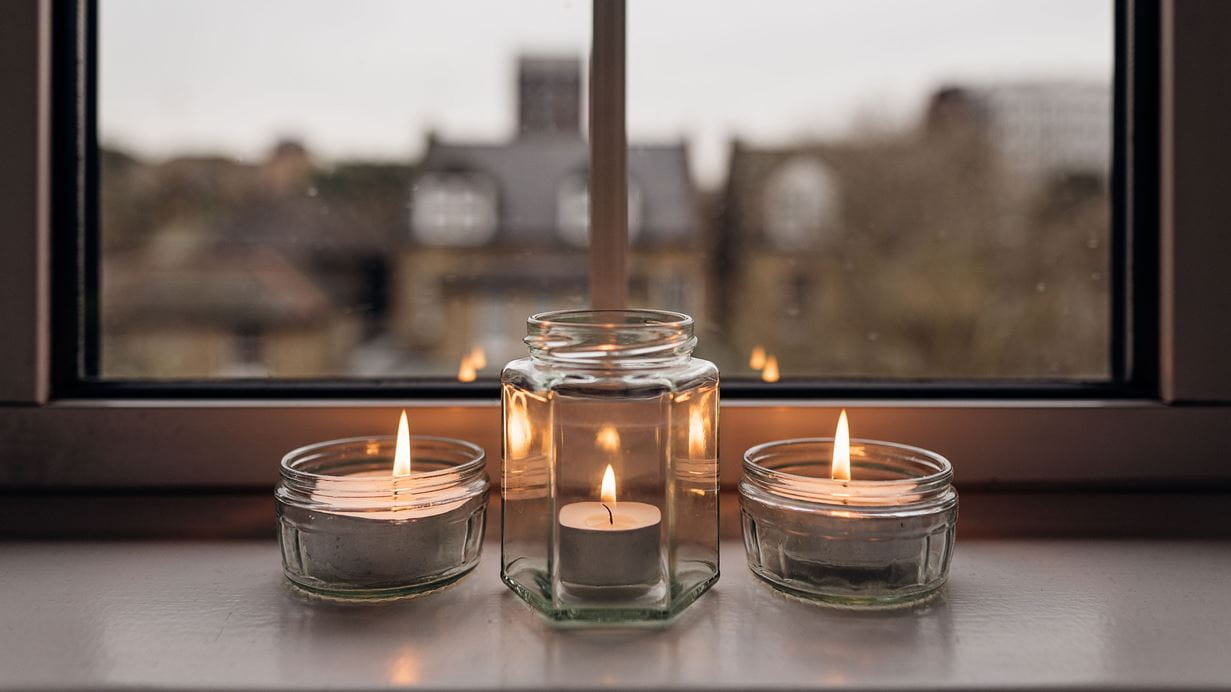 Candles in a window. When we light even a small candle in a dark room, it becomes a bright star | Image Credit: Tearfund.
Pray by lighting a candle
Jesus is the light of the world. Amid the darkness of conflict in Ukraine and around the world, lighting a candle can become a powerful symbol of an eternal truth: love is stronger than hate.
Find a quiet place where you can relax and light a candle safely. If you can, turn off all other lights. Part of prayer is listening out for how God is already at work – the following activity can help with this. You can do this alone, or have someone lead a group through the practice.
Welcome God's presence. This could be by saying 'God, you are here' as you breathe in, 'and I am here with you,' as you breathe out.
Spend time in thanksgiving for who you know God to be. You may want to play a worship song during this time, or read passages from the Bible about God's goodness and mercy.
Ask God to reveal to you how he is already at work in Ukraine. Be open to hearing God through pictures, scripture or words. You may want to write these down or paint a response. Commit what God is saying to prayer.
If you're with other people, set a time limit for the above and create space to feedback and encourage one another, before returning to pray.
End with another time of thanksgiving for what God has shared. Commit to continuing to join in with God to bring his Kingdom.
PSALM 31 On Sunday 24 April 2022 (Easter Day in the Eastern Orthodox Church) we have been asked to pray / read Psalm 31 along with the Ukrainian Church (Might this be something you could do on a daily / regular basis?).
1 In you, Lord, I have taken refuge; let me never be put to shame; deliver me in your righteousness.
2 Turn your ear to me, come quickly to my rescue; be my rock of refuge, a strong fortress to save me.
3 Since you are my rock and my fortress, for the sake of your name lead and guide me.
4 Keep me free from the trap that is set for me, for you are my refuge.
5 Into your hands I commit my spirit; deliver me, Lord, my faithful God.
6 I hate those who cling to worthless idols; as for me, I trust in the Lord.
7 I will be glad and rejoice in your love, for you saw my affliction and knew the anguish of my soul.
8 You have not given me into the hands of the enemy but have set my feet in a spacious place.
9 Be merciful to me, Lord, for I am in distress; my eyes grow weak with sorrow, my soul and body with grief.
10 My life is consumed by anguish and my years by groaning; my strength fails because of my affliction, and my bones grow weak.
11 Because of all my enemies, I am the utter contempt of my neighbours and an object of dread to my closest friends – those who see me on the street flee from me.
12 I am forgotten as though I were dead; I have become like broken pottery.
13 For I hear many whispering, "Terror on every side!" They conspire against me and plot to take my life.
14 But I trust in you, Lord; I say, "You are my God."
15 My times are in your hands; deliver me from the hands of my enemies, from those who pursue me.
16 Let your face shine on your servant; save me in your unfailing love.
17 Let me not be put to shame, Lord, for I have cried out to you; but let the wicked be put to shame and be silent in the realm of the dead.
18 Let their lying lips be silenced, for with pride and contempt they speak arrogantly against the righteous.
19 How abundant are the good things that you have stored up for those who fear you, that you bestow in the sight of all, on those who take refuge in you.
20 In the shelter of your presence you hide them from all human intrigues; you keep them safe in your dwelling from accusing tongues.
21 Praise be to the Lord, for he showed me the wonders of his love when I was in a city under siege.
22 In my alarm I said, "I am cut off from your sight!" Yet you heard my cry for mercy when I called to you for help.
23 Love the Lord, all his faithful people! The Lord preserves those who are true to him, but the proud he pays back in full.
24 Be strong and take heart, all you who hope in the Lord.
Amen.
JOHN RUTTER How can a composer respond to a global tragedy? The first thing I wanted to do was write some music that would respond in my own way. I hope the meaning of the text will resonate in people's hearts and reach out to the people of Ukraine in their hour of need. A literal translation of the text is:
Lord, protect Ukraine. Give us strength, faith, and hope, our Father. Amen
BROOCHES FOR UKRAINE The beautiful kind hearted mothers (nanays) over in the Philippines have asked how they can help families in the Ukraine because they heard about the war and heard families are now being forced to live like them …
SUNFLOWER BROOCHES FOR UKRAINE The Sunflower is the National Flower of Ukraine. The mothers (Nanays) in the Philippines are wanting to support the people of Ukraine and they have knitted Sunflower Brooches to be sold to go towards sending a container of medical equipment from the UK via PCF. Brooches are £5 each and will be available in the foyer at Emmanuel as well Christ Church and Saint John's, The Chequers and Billericay Brewery! I've currently sold 258 brooches totalling £1290 (plus a £500 donation) = £1790.
The following gives us some idea why the people of Ukraine are battling so hard to keep their independence.
At the entrance to the Kyiv Memorial Park there is a sculpture of a very thin girl with an extremely sad look holding several classes of wheat in her hands. Behind her back is the Candle of Remembrance, a monument with details reminiscent of authentic embroidery that can be found on traditional Ukrainian costumes. This is a monument that marks the historical event known as Holodomor (Hladomor). But what is Holodomor and what crime does this monument even symbolize?
At the end of World War I Ukraine was an independent state, but it was governed by the Soviet Union in 1919 "sucked" into the community of Soviet states. Ukrainians, who then considered themselves a Central European nation like Poland, not an Eastern European like the Russians, were trying to restore Ukraine's independence.
Not wanting to lose control of Europe's main grain, Stalin in 1932 resorted to one of the most heinous forms of terror against a nation. In the process of nationalization, he took the grainy land from Ukrainian peasants, and all its yields, creating artificial hunger. The goal was to "teach Ukrainians" so that they would no longer oppose official Moscow. Thus, the nation that produced the most wheat in Europe was left without a crumb of bread. The peak of the Holodomor was in the spring of 1933. In Ukraine, 17 people starved to death every minute, over 1000 every hour, and almost 24500 every day! People were literally starving to death on the streets.
In the emptied Ukrainian villages Stalin settled the Russian population.
During the next census, there was a large population shortage.
Therefore, the Soviet government abolished the census, destroyed the census documentation, and the censurers were shot or sent to gulag, to completely hide the truth.
It was Holodomor during 1932-1933 hunger killed between seven and ten million people, more than Jews in World War II. Their toxic gas was hunger. Their Hitler was Stalin. Their holocaust was Hladomor. For them fascist Berlin was Soviet Moscow, and their concentration camp was the Soviet Union. Today, 28 countries of the world classify the Holodomor as a genocide, and you could not teach about it in school because almost all evidence has been destroyed, and the victim was silenced for decades and had no say until recently.
The Holodomor may have temporarily broken the Ukrainian resistance, but it made the desire for Ukraine's independence from Russia eternal.
We pray for the Church that it will always be a faithful sign and instrument of Christ's peace.
Lord hear us:
Lord, graciously hear us.
We pray for the world that the peace of Christ might take root in every human heart.
Lord hear us:
Lord, graciously hear us.
We pray for our world leaders that the Holy Spirit will guide them to promote the peace ad understanding of Christ's Gospel.
Lord hear us:
Lord, graciously hear us.
We pray for the peace and safety of all those who are suffering due to war and violence.
Lord hear us:
Lord, graciously hear us.
We pray for our bishops, clergy, teachers, parents and all those who guide us in our faith that they might have the wisdom and courage to teach the peace of the Gospel of Christ.
Lord hear us:
Lord, graciously hear us.
We pray for the ourselves that we may become peacemakers with our families, our neighbours and communities.
Lord hear us:
Lord, graciously hear us.
Lord, you sent your Son Jesus into the world that we might enjoy your peace always.
Give us the strength to live as your children and to be makers of peace.
Grant that all peoples might put aside their differences, and seek the unity of your Kingdom.
We make this prayer in Jesus' Name. Amen
---
Join with me in praying for safe travels for Wayne Griffiths and Tony Lipman-Collins, who set off to drive to the Polish Ukraine border at 5am pon Friday 5 March. This is such an amazing venture to undertake – wonderfully supported by Kath at Chequers Billericay and the community of Billericay.
I've written a prayer for them – might you be willing to pray this with me every day until they return?
Heavenly Father, whose presence can be found wherever we go. Be with Wayne and Tony on this amazing venture. Please surround them with your loving care, give them good health and protect them from every danger as they travel to the Polish Ukraine border. May the supplies they take bring comfort to those families most in need and may the Ukrainian people be aware of the love we have for them in these desperate times. We pray you will bring Wayne and Tony safely back to their family and friends. We pray these things in the name of Jesus. Amen.
---
As you continue pray for Ukraine, here are some suggestions for your prayers:
Mike Burgess, Billericay Baptist Church
Lord, in such troubling times in the world, we humbly come before you & ask you to hear our prayers & to show your mercy & compassion. We are grateful for the words you spoke: "Peace I leave with you, my peace I give you. I do not give to you as the world gives. Do not let your hearts be troubled and do not be afraid." John 14:27
We are reminded of the words Paul shared to encourage the church to stand firm against the enemy: "Be strong in the Lord and in his mighty power. Put on the full armour of God, so that you can take your stand against the devil's schemes. For our struggle is not against flesh and blood, but against the rulers, against the authorities, against the powers of this dark world and against the spiritual forces of evil in the heavenly realms. Therefore put on the full armour of God, so that when the day of evil comes, you may be able to stand your ground, and after you have done everything, to stand." Ephesians 6:10-13
We lift up all peoples in the world, all 7.9 billion: some who might live peaceably & unaware of conflict; others who have experienced conflict, turmoil, homelessness, poverty, pain & suffering for years; and others who were living peaceably with a bright future ahead of them just 10 days ago but have seen their world upended. We thank you that you are the God of history, that every hair on our heads is known to you, that all the days ordained for every person were written in your book before one of them came to be, that you are not surprised or anxious about our current world situation. Psalm 139:16, Luke 12:7
We pray for world leaders: for Putin, Zelensky, Lukashenko, Stoltenberg, von der Leyen, Biden, Jinping, Johnson & others. It has been said that "With great power comes great responsibility" and that "Absolute power corrupts absolutely". We particularly pray for Putin & his advisors, who seem to have such a different worldview and seems prepared to risk so much with so many to build their Russian kingdom. Show him your power. Show him your kingdom. You are the God who makes nations great and destroys them, who can lead rulers away stripped & deprives leaders of the earth of their reason, who warns that pride goes before destruction. May you humble those who are proud of what they do in their own strength, that they may realise the wickedness of their ways & turn to you. Job 12:13-25
We pray for the Russian soldiers, many of whom didn't choose to fight their neighbours, perhaps their relatives, some of whom have turned away from their weapons & been shown mercy by Ukrainians. Their commanders may punish them, but we know you look down with mercy, grace and forgiveness. May such actions be an inspiration to others that there is a better way.
We pray for those who cannot defend themselves; for the grandfather sheltering in the basement of his house for several days when the soldiers came, finally emerging to find no house left to live in; for the 80 year old grandmother who having survived WW2 decides to stay with confidence that she will survive again. Be Jehovah Jireh, God the Provider, to them and to so many in great physical, emotional & spiritual need.
We pray for those who have made the difficult decision to leave their homes, sometimes leaving family members behind, often travelling in the cold for many days. We are so thankful to see people respond in kindness, meeting them at the border, taking them into their homes. May what the enemy intended to destroy turn out to be an opportunity for both those in peril & those helping to learn what it means to be human, to love and to be loved, to focus on what is important in life and may their mourning be turned into gladness, their sorrow be replaced with comfort and joy. Genesis 50:20, Jeremiah 31:13
And we ask you to give us wisdom and compassion as we decide how best we should respond in our own hearts, in comforting those around us and in reaching out hands of love to people we've never met, may never meet, but feel close to us now. 2 Corinthians 1:3-4
Lord, in your mercy, hear our prayers, Amen.
Archbishops Prayer for Ukraine
2022 02 24 Ukraine Pastoral Letter from the Archbishops
This prayer was written by Pete Grieg from 24-7 Prayer
Father God, King of all nations, we cry out to you now for the people of Ukraine. We ask you to rescue those who are vulnerable from the hands of their enemies that they may live without fear before you all their days [Luke 1:74-75].
Kyrie eleison – Lord have mercy.
Lamb of God, who takes away the sins of the world, have mercy upon us.
Lamb of God, who takes away the sins of the world, grant us peace.
Lord of lords and Prince of peace, our politicians are predicting the biggest war in Europe since 1945, and we simply cry out to you urgently to write another story in our time. Thwart the dark machinations of evil men. Give wisdom beyond human wisdom to peacemakers seeking an equitable and less violent way. May politicians exercise the wisdom from above, which is peaceable, gentle, willing to yield, and full of mercy [James 3:17].
Kyrie eleison – Lord have mercy.
Lamb of God, who takes away the sins of the world, have mercy upon us.
Lamb of God, who takes away the sins of the world, grant us peace.
Holy Spirit, we pray for the church in Ukraine, a nation in which 70% of the population call themselves Christian. Give our many brothers and sisters in that nation courage in this crisis that they may proclaim the good news of your kingdom, bind up broken hearts, and bring comfort to all who mourn. [Isaiah 61:1-2].
Kyrie eleison – Lord have mercy.
Lamb of God, who takes away the sins of the world, have mercy upon us.
Lamb of God, who takes away the sins of the world, grant us peace.
You Lord, make wars cease to the end of the earth; you break bows, shatter spears, and burn shields with fire [Psalm 46:9]. And so we ask you now to save the lives of many people in Ukraine. Make a peace that is strong and not weak. De-escalate this crisis. We hear of wars and rumours of wars (Matt. 24:6], but you Lord are our rock, our fortress and our deliverer. Our hope is in you. And so we address the nations now. In the name of Jesus we say: "Be still and know God! He is exalted among the nations; he shall be exalted in the earth [Psalm 46:10].
Kyrie eleison – Lord have mercy.
Lamb of God, who takes away the sins of the world, have mercy upon us.
Lamb of God, who takes away the sins of the world, grant us peace.
AMEN
This prayer is also available as downloadable slides and a PDF printout for use in your church or community.
From the Methodist Church
Prayer by David Smyth, Head of Northern Ireland Evangelical Alliance.
Father, today we pray for the escalating situation on the borders of Ukraine and Russia.
We confess that in times of such rapid change and on issues of such complexity, it can be difficult to know how to pray.
So we start with our praise and thanks to you, who remains steadfast and faithful, all-seeing and all-knowing.
We re-orientate ourselves in you, your timescales, your ways and your purposes.
We remind ourselves of your love for this earth you formed and those you created in your image.
We struggle to see clearly through confusion and misinformation, yet recognise an age-old lust for power, control and violence.
We pray for those already fleeing homes and livelihoods, for those who are fearful and vulnerable.
We pray for peacekeepers on the ground and those seeking to defend life and liberty.
Amid the political posturing, we pray for those involved in genuine diplomatic efforts to avert bloodshed.
We remember how Jesus resisted being co-opted into the religious and political uprisings of competing empires. We remember how Jesus spoke to heal the sick, calm the storm and raise the dead. We too pray for powerful words and miraculous actions – for de-escalation, peace and justice, repentance and restoration.
On earth as it is in heaven, and for our faithful witness until then,
AMEN.
Anonymous (via Facebook)
O God of mercy,
You sustain us with your grace as we live in a world which seems to abound in violence and hatred.
This day our hearts are particularly heavy as we mourn the loss of life in Ukraine.
We pray, even plead, with you to deliver us from the ongoing prejudice and hatred we have toward one another.
Temper our forbearance to pray for our enemies with a resolve bring about justice for all, particularly the innocent and vulnerable.
Guide our hearts and minds with the ultimate vision of your peaceful kingdom that we never lose sight of the day when we all may stand before you as true brothers and sisters.
AMEN.
Pope Francis
Psalm 46:1-11
1 God is our refuge and strength, an ever-present help in trouble.
2 Therefore we will not fear, though the earth give way and the mountains fall into the heart of the sea,
3 though its waters roar and foam and the mountains quake with their surging.
4 There is a river whose streams make glad the city of God, the holy place where the Most High dwells.
5 God is within her, she will not fall; God will help her at break of day.
6 Nations are in uproar, kingdoms fall; he lifts his voice, the earth melts.
7 The Lord Almighty is with us; the God of Jacob is our fortress.
8 Come and see what the Lord has done, the desolations he has brought on the earth.
9 He makes wars cease to the ends of the earth. He breaks the bow and shatters the spear;
he burns the shields with fire.
10 He says, 'Be still, and know that I am God; I will be exalted among the nations, I will be exalted in the earth.'
11 The Lord Almighty is with us; the God of Jacob is our fortress.
AMEN.
If you feel as though you want to pray, but don't know how, The Lord's Prayer is as good a place as any to start:
Our Father in heaven,
Hallowed be Your name;
Your kingdom come,
Your will be done; on earth as in heaven.
Give us today our daily bread.
Forgive us our sins,
As we forgive those who sin against us.
Lead us not into temptation:
But deliver us from evil.
For the kingdom, the power,
And the glory are Yours,
Now and for ever.
Amen.
DAILY PRAYERS FOR THE ARMOUR OF GOD I collated these daily prayers in a booklet form several years ago – and have since printed 1,000's of copies. Many people have found them to be helpful – especially when they are going through tough times.
CTB SERVICE OF PRAYER FOR WORLD PEACE (ESPECIALLY FOR UKRAINE) A Service of Peace for the World and especially Ukraine will he held at Saint Mary Magdalen in the High Street on Saturday 12 March at 11.00 am. There will be an opportunity to light a candle for peace. Refreshments will be available afterwards.
We're holding a prayer event for Ukraine at Emmanuel Church, Billericay on Sunday 6 March at 7.00 pm. I give you an invitation to join with us – come for as long or as short as you feel able.
What a privilege to hear the accounts from three ladies from Belarus and Ukraine at our Prayer event on Sunday 27 February as over 80 people from across Billericay gathered together to pray. Their stories were really moving and gave a very special focus to our prayers.